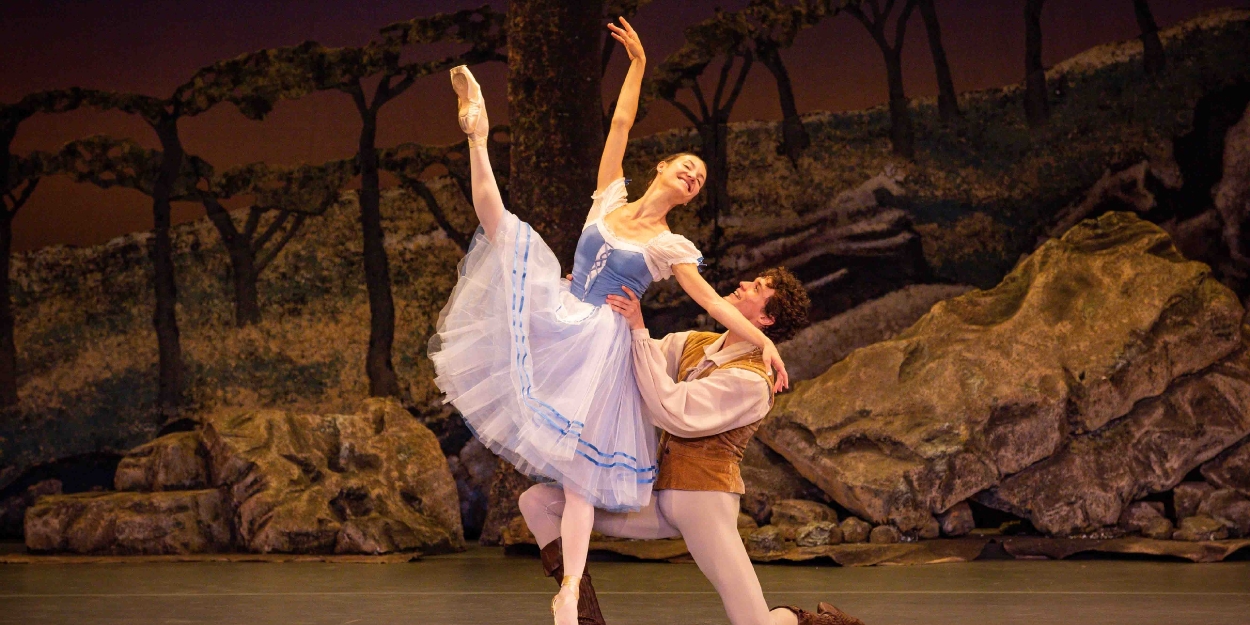 Review: UNITED UKRAINIAN BALLET'S GISELLE, London Coliseum
A newly curated company of dancers perform in London until September 17

Comprising over fifty Ukrainian refugee dancers, the United Ukrainian Ballet's debut in London was always going to be a moving and courageous showing. This company that did not exist four months ago, with staging and choreographic input from artist-in-residence at American Ballet Theatre, Alexei Ratmansky, deliver an emotively told and powerfully danced Giselle against the odds.
Since May when the company was established, they have been based in the Netherlands and led by Ukrainian native and former Dutch National Ballet principal, Igone de Jongh, who wanted to give dancers from her homeland a safe haven to dance.
This familiar story to ballet fans is amended a little in Ratmansky's take and stays closer to the 19th century debut than many will have seen before. Indeed Giselle's intended, Hilarion (Sergei Kliachin) is a brutish villain here, his mime vivid and impassioned. While Albert's (not Albrecht) betrothed, Bathilde is often played as a cold, aloof caricature but in this account she develops a bond with Giselle. She shows her warmth and affection upon gifting her necklace to the peasant girl and in the mad scene she is as distressed and concerned as the rest of the onlookers.
Of course, a company of dancers does not a production make, and this run at the London Coliseum is a real story of the coming together of the arts. Sets and costumes are on loan from Birmingham Royal Ballet, an element that elevates the optics and gives the appropriate substance the company is deserving of.
For opening night, a last minute injury to English National Ballet's Katja Khaniukova meant a short notice replacement by American Ballet Theatre's Christine Shevchenko. A dancer London audiences rarely have the opportunity to see, her Giselle is wide-eyed, youthful and vibrant. She bounces and hops excitedly to Adolphe Adam's familiar score, partnered by Oleksii Tiutiunnyk's long limbed Albert who matches her boundless energy and demonstrates a sincere love for this lively peasant girl. You'll rarely see a pair so infatuated by one another.
Ratmansky's stripped back choreography allows for clarity and pure lines. The corps de ballet are joyful and well synchronised in the extended peasant frivolity. The steps may be simple but there is detail in their ranks, the silent exchanges between the villagers, the little looks and gestures and reactions. They commit wholeheartedly to the immersive storytelling.
At the climax of Act I, Giselle's demise, and the shift in her character, is engrossing. Previously effervescent, this evaporates before our eyes, with her grief plain to see through heavy arms and wild hair.
Act II sees more high drama in the atmospheric Wilis act. The technical complexities are apparent in some more scrappy moments, the corps are not quite as tightly drilled in their spacing and alignment for the arabesque hops from left to right and Shevchenko's only shaky moments come in the famous développé and attitude turns in her solo. However, her demeanour is serene, the expressive maiden from earlier is gone, and she remains immune to Albert's genuine turmoil.
Elizaveta Gogdize's Myrtha is a thrilling central focus. She is authoritative, ethereal and demands your attention with her stage presence and sweeping leaps that cover the stage. The Wilis may be largely decorative but they are taking no nonsense when it comes to disposing of Hilarion in a whirlwind of collective turns that leave him reeling.
As another season of dance shifts into gear in London, this miraculous addition is one that London audiences will hold with great affection. This emotional evening is brought to a close, with the principals draped in their national flag and a rendition of their National Anthem, a more affecting experience you'll be hard pressed to find.
Giselle is at the London Coliseum until 17 September
Photo Credit: Mark Senior